'We are a community of impact entrepreneurs, pioneers, and changemakers.'
En dat voel je direct als je binnen bent bij Impact Hub in Amsterdam aan het Westerpark. Een broed- en werkplaats voor sociaal ondernemers. Een fysiek en virtueel netwerk van 'impactmakers'. Vanuit 65 locaties in de wereld – van Amsterdam tot Johannesburg, van Singapore tot San Francisco – wordt het netwerk van 11.000 members vanuit een inspirerende omgeving gefaciliteerd. Om te verbinden, ontmoeten en te creëren. Maar vooral om te doen, te ondernemen en daadwerkelijk een verschil te maken. Ik zou er meteen mijn laptop openklappen.
Ik word ontvangen door member en 'host' Anne Wernand en had, voorgaand aan mijn redelijk spontane bezoek, contact met Bram Pauwels, lead marketing & communications en Wieke van der Zouwen, scaling manager van Impact Hub. En dat was snel schakelen. Uitnodigend en met wederzijds getoonde interesse werd ik verwelkomd. Anne leidt mij rond en een paar dingen vallen mij direct op:
De grote muur met polaroids van alle members. 'Impactmakers' staat er groot boven. Ik lees 'trots'. Impact Hub zorgt voor zichtbaarheid, dat is duidelijk.
Zoals tegenwoordig in veel werkomgevingen; een diversiteit aan werkplekken en werkenergie: ik zie overleg in de keuken, brainstorms achter glazen wanden, presentaties, stilte- en concentratieplekken en werkplekken waar het gonst. Op zich niet spannend, maar de filosofie achter het ontwerp van Impact Hub is mooi. Daarover zo meer.
Members van Impact Hub zijn over het algemeen sociaal ondernemers. Vernieuwende ondernemingen met een andere kijk op samenwerken en winst maken. Maar ook is de EU Commitee 'in the house' en aan het werk in de Impact Hub. Ik begrijp van Anne dat juist ook corporates als Shell graag gebruik maken van de faciliteiten en meeliften op de energie van Impact Hub. En ervaring en netwerk meebrengen. Vernieuwer meets corporate. En dat is goed nieuws.
By the way, pak zelf je koffie. Feel free, maar ruim wel je kopje op. Gewoon, zoals het hoort, gemoedelijk maar duidelijk. Het is helder dat de members het huis gezamenlijk bewonen en eigenaar zijn van het concept.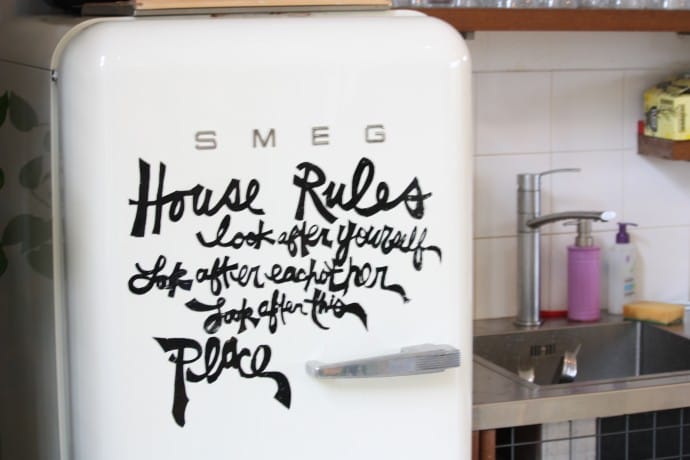 De filosofie van The Impact Hub
'Impact cannot happen in isolation, it requires collective action.' De filosofie van Impact Hub is gebaseerd op samenwerking en gebundelde kracht. Alleen dan ben je in staat te vernieuwen. Impact Hub stelt zich tot doel deze collectieve actie te faciliteren. Of het nu gaat om het creëren van de fysieke Hubs, het social online netwerk HubNet of events; alles is gericht op het verbinden van de impactmakers en hen maximaal hun werk laten doen. Waarden die worden uitgedragen door Impact Hub zijn vertrouwen, samenwerken en moed. Immers, zonder het durven bewandelen van nieuwe wegen, no impact.
Het ontwerp van Impact Hub
De ruimte van de Hub is ontworpen door AKKA Architects, members en bewoners van Impact Hub. Een sociale onderneming met een vernieuwende visie op architectuur en ontwerpen. Vanuit de overtuiging dat een omgeving en werkcontext de samenwerking en gedeelde waarden moet ondersteunen. En vanuit de visie dat je alleen in co-creatie met de bewoners van een gebouw tot een succesvol ontwerp komt. De architectuur van Impact Hub draagt de filosofie.
Wil je lid worden van Impact Hub? Op de website van Impact Hub vind je heldere informatie. Je kunt lid worden om te netwerken, om een aantal dagen per week of onbeperkt te werken op de Hub of er een kantoor huren.