New York City. City that never sleeps. City of newcomers and the established, rapid developments, underground movements and classy upper sides. City of surprising new trends and hotspots uprising every day. A city that invented the fear of missing out…
So when visiting New York; how to pick your places to stay, visit, eat, explore? How to fully experience and 'live' the city? Like a New Yorker. Like a local. The truth is, it's almost impossible to choose something wrong. But it helps if you know what kind of atmosphere you want to taste. That's my compass while preparing a trip. I do not use or copy hotspot- or traveller lists. I research neighbourhoods, scenes, read local (!) blogs and see what kind of people live, work and hang-out in those neighbourhoods. That's how I choose the spot that fits the aim of my trip. Next step is to pick the perfect place to stay…
Travel goals //
During this trip I wanted to explore SOHO and the villages again and visit Brooklyn, especially Williamsburg. I had appointments in Tribeca. My trip was a mix of work and pleasure. For sure it was supposed to be inspiring! So, I found myself searching for a cool and centrally located place to stay downtown. Also, I was traveling alone, so I wanted to stay in a lively and safe area. An area where it would be easy to go out and have a drink or dinner by myself. No empty dark streets to cross at night. I chose a hotel over AIRBNB this time, because most next generation hotels offer great places to hang-out, have coffee, work, eat, live. In case I did not want to go out. Coworking, coliving, staying 'at home', while not being all by myself.
My pick in LES //
There's no 'best pick' in NYC. I chose a boutique hotel that opened a year ago, at the crossroads of the Lower East Side and China Town. Close to Soho, Nolita, Tribeca and close to the bridges to Brooklyn. Of course I checked the facilities, style, look & feel and price…. It was a match!
Hotel 50 Bowery NYC //
Hotel 50 Bowery is the first NYC location of the Joie de Vivre group of boutique hotels. Like I said; location, home-away-from-home-feel and a reasonable price were my main criteria. I got hooked when I looked at the website and social media content. The images said: 'Yes, we like you, girl, single travel, blogger to hang out with us and feel comfortable.' The website showed an understanding of the way people travel, relax, explore and work nowadays. It all communicated contemporary traveling, living and working; the way I like it and matching The Style Office…. How great when a hotel (or any brand you give your money to) uplifts your goals!
Work hard, play hard in style…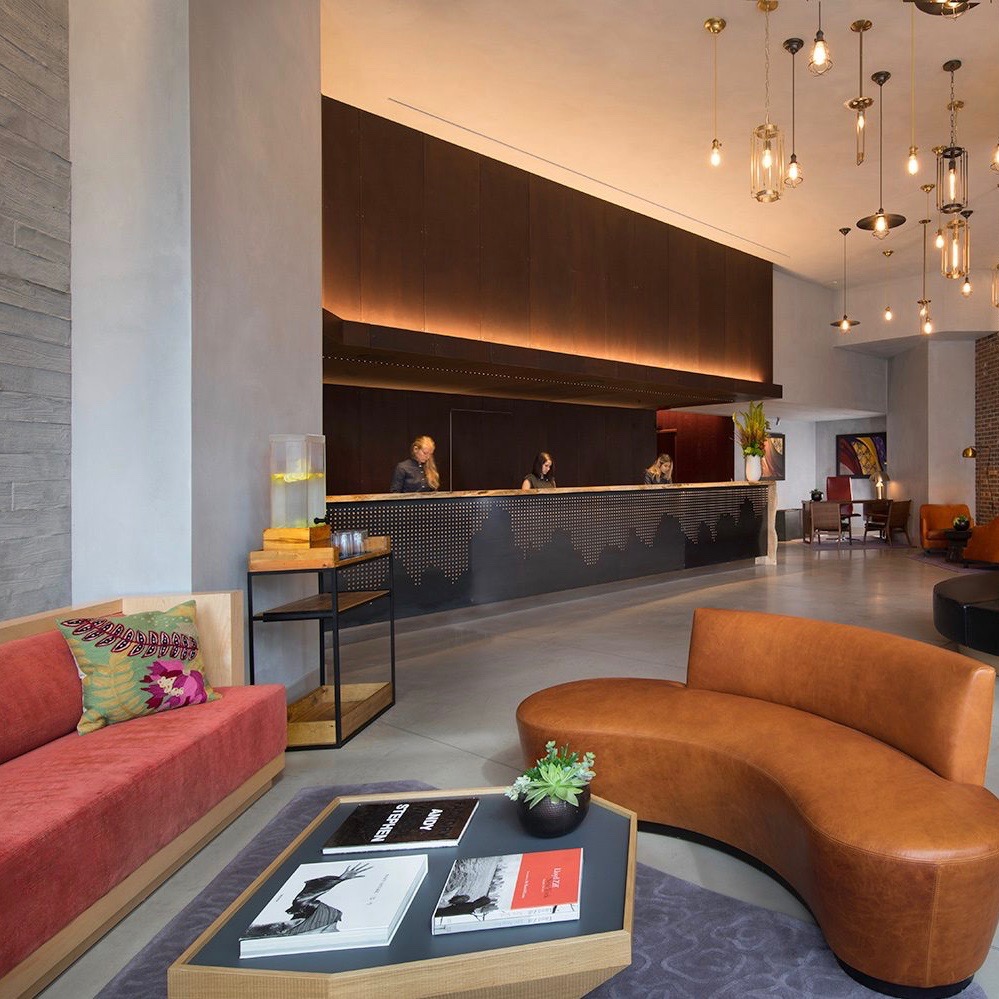 Honouring the locals //
Of course all hotels will sell (their) local features. 50 Bowery takes it to the next level: Out of respect to China Town and the rich history of the neighbourhood, they use part of their space as a museum, co-created by local artists from China-town. Next to that, restaurant Rice & Gold (just opened in September 2017!) worked closely with street artist Ewok to create a vibe that matches the environment and to show you how New Yorkers experience the surroundings and daily life… check out their wall, interior design & menu!
We celebrate Chinatown's unique history while blending thoughtful modern touches, harnessing the spirit of change, and serving as a platform for discovery of our local community
Rooftop life //
Hotel 50 Bowery offers a good range of 'to be expected' facilities, but also offers work facilities & yoga classes! Top feature is The Crown. Rooftop living! Located on the 21st floor the rooftop bar and lounge gives you sweeping views of downtown Manhattan, Brooklyn, and silhouettes of Queens and New Jersey. Great spot to relax or sip cocktails at night!
I found my haven in New York City matching a busy schedule, exploring the city and meeting friends in NYC. Thank you 50 Bowery for the wonderful upgrade of my room (such a great view!), for your personal approach and warm welcome, Kelly Prince and for the great service and personal note, Paul Kim! 50 Bowery is a true home-away-from-home and a really nice base in the vibrant city that never sleeps.
Pictures // 50 Bowery & Rosan Gompers
Text // Rosan Gompers
The Style Office is a storytelling magazine on urban work- & lifestyle aimed at the next generation creatives & entrepreneurs. We love to share ideas and stories on new ways of working and creative entrepreneurship AND we love to inspire you on a great work- and lifestyle // hashtag #designyourlife // read more about us and learn what we can do for you. We'd love to meet you!