Berlin // Saturday August 1st // location: betahaus co-working community. I meet Marcus Meurer and Feli Hargarten during the first international digital nomad conference; DNX GLOBAL. They are the initiators and organizers of this conference and the brains, energy and power behind the DNX platform, a community for digital nomads.
More and more people start working as traveling entrepreneurs, using the advantages of the internet to start or develop their business, changing their work- and lifestyle. It's a freedom revolution in which people take ownership of their jobs, time and life. People quit their conventional jobs to reclaim the freedom to design their own lives. Marcus and Feli are not only trendsetters and early adopters, being digital nomads and successful business owners now for several years; they are the trend-'senders'. They spread the digital nomad vibe.
Exciting to meet this energetic, inspiring and traveling couple. Not only to get an idea about their lifestyle, but much more to get a sense of their energy and personal drives. This is what I found out about them and learned about the digital nomad attitude…
Open-minded lifestyle //
Marcus and Feli are very approachable, easy going and seem to ride the waves of the conference in relax mode. Can you image 400 people all wanting some of your personal attention at your own party? Marcus and Feli are welcoming to everyone and open about their own experiences and failures. Their business thrives on sharing. Open-mindedness as the key to meet like-minded people. It seems a contradiction in some way, but it's not. It's the way to connect to others. And that's what you need to do as a digital nomad: Connect to new situations, people and cultures all the time, not getting stressed out if things go differently than planned.
Flexible & disciplined workstyle //
"Being flexible and adaptive to changing circumstances go hand in hand with being disciplined", Feli adds. "It's like yin and yang. As any worker, you have to set goals for yourself, get your tasks done, work on your deadlines. Make sure you are productive while traveling. Next to being disciplined, you need skills to organize this for yourself in a smart way, using tools, listening to music to get yourself in the flow or work offline for a couple of hours. After work is done, it's time to relax, discover, do sports or go to the beach. The idea that digital nomads work with their laptops on the beach is a romantic image, but we love to spend our time there! For instance, at Tarifa, a place where we also organize boot camps for digital nomads." For some people, not having the digital nomad experience yet, it might sound strange; traveling and being productive. "But actually you get more creative and connected with yourself.  So when you sit down to get your task done, your will work more efficiently", Marcus ensures.
Body & mind //
Marcus and Felix do not take their lifestyle for granted. They invest in it, by investing in their body and mental condition. "A happy (work-)life starts with feeding and nourishing yourself. We start with a morning workout and meditation every day. Next to that, I'm a fanatic boxer and Feli is a yogi, biker and kite surfer." Marcus shares his ideas about a healthy lifestyle through his website Life Hackz. Another example of creating a business out of your passion. Like Feli runs her travel magazine Travelicia on the road.
Start with your WHY //
"We love what we do and that's the fundament of our success. That's what keeps us in the flow. We have seen a lot of people starting their business opportunity-driven, finding ways to exploit the internet. But if you do not find the thing you love the most first, it won't be a lasting or successful business. If your want to become a financially sustainable digital nomad, you have to start questioning yourself on your why, your mission, personal drives and talents. It's a process that takes honesty and reflection. The next step will be to find out how you can monetize the things your really like through the internet and create a good business plan. That's the way to start a flourishing online business. Did you notice that successful online businesses are often ran by people with strong personal brands? Their brand is strong, because they are honest, authentic and do what they love. They are connected and that's what they communicate."
Sharing & giving //
"What is sharing to you"?, I ask Marcus and Feli, before ending a very informative and energizing chat. Interesting to understand the unwritten rules of exchange, especially when you have founded your business on this principle. "The first step is to give", Marcus explains. "It gives us energy to pass and share our ideas, tips, support and advice. This is the way we get energy and ideas back from others, connect and of course, it's the only way to create a crowd and build a community in the online world. It makes us happy and it's the fuel of our businesses. If you share with clear intentions, it will always be a win-win situation."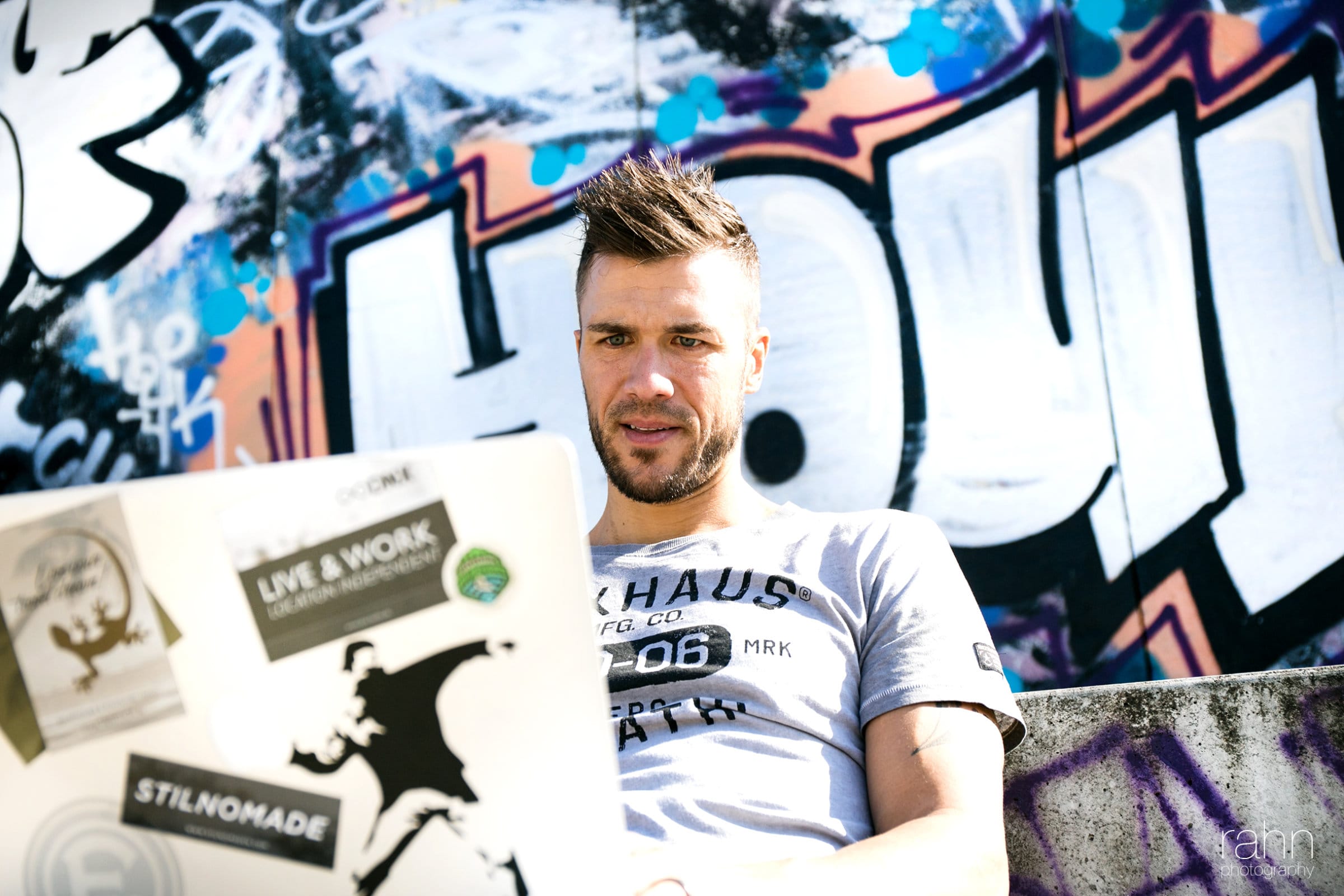 DNX GLOBAL featured 10 speakers delivering fascinating talks and a range of workshops on topics around online self-employment, online business and location independent careers. DNX is a platform for anyone curious about the digital nomad way of working and living. A network bringing like-minded people together.
Get to know Marcus and Feli's businesses and workstyle //
www.dnxglobal.com
www.lifehackz.de
www.travelicia.de
Tekst // Rosan Gompers
Pictures taken at Michelberger Hotel/Berlin // Rahn Photography
The Style Office is a storytelling magazine on urban work- & lifestyle aimed at the next generation creatives & entrepreneurs. We love to share ideas and stories on new ways of working and creative entrepreneurship AND we love to inspire you on a great work- and lifestyle // hashtag #designyourlife // read more about us and learn what we can do for you. We'd love to meet you!